Updated April 24, 2020

Although we are staying home now, and the amount of overstimulation we receive from our environment is therefore considerably lessened, with the screens in our home and the audio and (if we're lucky) other people and pets that are with us, there's still an awfully lot going on and coming in through our senses.
We live at a discontinuous point in history.
Most of us know that the human race started evolving from primates, coming down out of trees over 1,000,000 years ago, but it's only been the last 200,000 years that we've been homo sapiens.
We've written things down for only 6,000 years out of those million years so we have no written record of what went on before those roughly 6,000 years.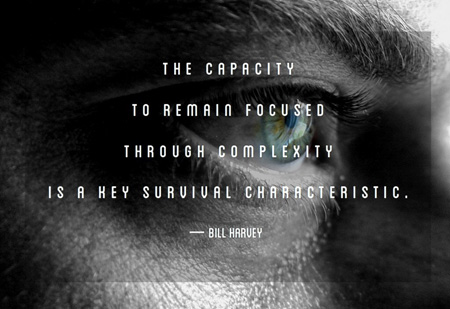 My hypothesis as a social scientist is that in the last 6,000 years, written language changed the way we use our minds.
It actually started with the cave paintings, some 30,000 to 40,000 years ago, using symbolism — we started to be able to look at abstract symbols to represent things like animals that we were going to be hunting.
When we moved to written language, we could see the language — the granular bits of information. Pictures don't have chunks to them like words do.
Though nowhere near digital yet, we started to get into granular chunk thinking as soon as we got into written language.
This development marked the beginning of a revolution in the way we use our minds, and this has been accelerating for the last 6,000 years.
We started inventing things — first tools, then weapons and then media — and all of those things have contributed to the fact that we now every day are subjected to a deluge of stimuli that exceeds our ability to answer all the questions arising in our mind second-to-second.
We get into a habit of just sweeping things aside. "I'm never gonna answer all this stuff. I won't try to answer all this stuff. I won't even try to answer the basic question of what is life, what is the meaning of all this, what is my purpose? It's just too many questions. I can't answer them." I call this condition Acceleritis™.
We see things like increasing ADD and ADHD and we see people who are supposed to be running big countries acting like high-school kids and not getting anything done.
This deluge of stimuli all the time is not good for any of us. In the face of the hugely distracting environment of Acceleritis, we are being distracted from Flow state, which I believe is our natural state and which occurred a lot more before 6,000 years ago.
This is why I consider psychotechnology, which prepares people with techniques to stay focused through complexity, to be so important. No matter who we are, the quality of our life depends upon our effectiveness in meeting challenges, whether as a parent, an executive, an athlete or a world leader.
Shutting out distractions
Most all of the techniques I use to increase focus and creativity are included in my book, MIND MAGIC, and I also share them here in this blog space — techniques like mindfulness, meditation, self-awareness and letting go of attachment. Learning to become the observer more often and not getting caught up or reeled in by all of these distractions, we can find greater clarity and reach Flow state more often. Learning to stay focused in an ever increasingly distracting world, we can ultimately increase our creativity and improve our decision making.
Best to all,
Bill
Read the latest post at my media blog  "In Terms of ROI" at MediaVillage.com.