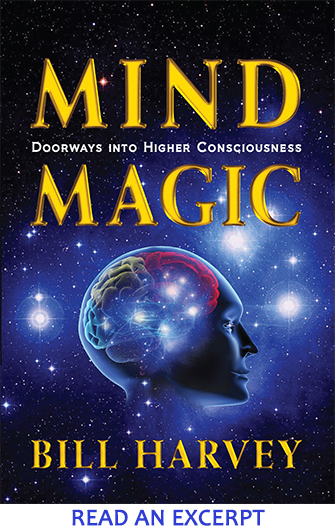 MIND MAGIC: Doorways into Higher Consciousness is a guide to discovering who you really are beneath all the influences of other people and things in your life. What do you really want to do with the rest of your life—what will be fun and will bring out the best of you to share with the rest of us?
Imagine a book that's fun to read, that helps you relax and hang out with yourself, finding out more about yourself just by reading it. A book you can put down every few pages or so to pause and just look inside yourself in a new way. Warning: you may effortlessly feel yourself being borne up into higher levels of awareness, a higher state of your own consciousness.
Reading MIND MAGIC is a unique experience. I find it still helps me to see myself and life in fresh new ways.
Praised by Ram Dass, Daniel Goleman, Norman Cousins, and thousands of other readers, MIND MAGIC was an instant classic when it was first published in 1976. John Lennon asked for it by name at the legendary Radius bookstore in NYC and Yoko ordered 12 more copies saying "our copy was taken by a friend".
MIND MAGIC glides along effortlessly, stimulating you in light and sometimes humorous but always unexpected ways.
Benefits
Here are some benefits readers say they got from MIND MAGIC:
More creativity
More effectiveness
More time being in the Flow state (the Zone)
Mindfulness
A more positive attitude
A more rewarding state of mind
Helps you use your mind instead of letting it use you
A better way to run your mind
Better decision-making
Happier and feeling not so alone
Brings out the best from yourself and life
All this from reading a book?
See for yourself.
If MIND MAGIC doesn't work for you, feel free to return it for a refund.
AVAILABLE EVERYWHERE BOOKS ARE SOLD

Also available on




and
Barnes & Noble's


"MIND MAGIC is a delight. Sets forth with neat precision just how to do it (think)."
—   Ram Dass, author of Be Here Now
"Highly recommended… will loosen your moorings and open you to creative vistas."
—   Dr. Daniel Goleman, author of Emotional Intelligence
"What sets your book apart from all others in this field… is that it is a rare combination of frontier knowledge, wisdom, and plain old fashioned warmth… in your debt for the insights it provides."
—   Norman Cousins