What if you could step out of your stressed state of mind
and into a life lived with joy and ease?
You can. Stress is the result of not being able to keep up with the pace of your Life.
The purpose of The Human Effectiveness Institute is to give you new, inner methods that allow your thinking and emotions to do better than just keep up with that pace. These methods work by relaxing your mind out of its habit patterns. Our methods are totally unique and do not duplicate work you may be doing with other methods of relaxation and stress management.
When your mind and emotions are freed from their conditioning, there is a mental relaxation that pervades the body and causes it to also relax. In this state of freedom from worry there is a natural ease that is conducive to creativity and higher personal effectiveness.
Our research has taught us that today every minute the human race operates under a flood of new impressions far beyond the conditions of the prior millions of years of human development. We don't have the tools of thought that would allow us to absorb and assimilate this daily rush of impressions. As a result from early childhood we develop unwanted mental and emotional habits… This is the stress syndrome, which brings us down out of our highest selves, into robot-like behavior and emotional over-reactions.
The Mission of The Human Effectiveness Institute (THEI):
To make widely available new tools to  focus the mind, enabling higher performance. And in the process to continue basic research and tool refinement.
Our Vision:
By becoming more effective individuals, the human race can solve all of the world's problems which the race has created.
THEI Background
The Institute was formed in 1976 and was granted a federal tax exemption as a 501C3 scientific and educational foundation. Objectives of The Human Effectiveness Institute are, to quote from the Certificate of Incorporation:
    "4. PURPOSES. The purposes for which the corporation is organized are as follows:
To conduct research into how humans internally process sensory, cognitive, emotive and intuitive information in order to make moment-to-moment action decisions – both normatively and optimally (i.e. how do most humans do this, and how can this be maximally improved).
To create, test, refine and distribute educational materials (both print and electronic media forms; classrooms; home study; etc.) which tend to documentably improve the information-processing basis for decision-making in the sphere of normal day-to-day human life."

The Institute's first educational material was a book, MIND MAGIC, that was used as a course text at 34 universities including NYU and UCLA. The Institute's executive director was invited by the U.S. Army to present the material to the Commandant and Corps of cadets at West Point, and to Delta Force at the Army's graduate school Carlisle War College. New England Merchants National Bank was among the companies to use the material and to write an endorsement of its efficacy.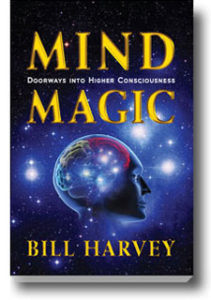 In January 2013, the 6th edition of MIND MAGIC was released – MIND MAGIC: Doorways into Higher Consciousness with newly added material.
Bill Harvey's book, You Are The Universe: Imagine That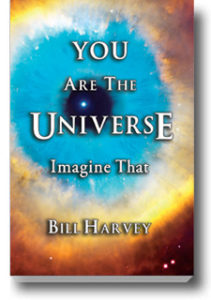 was released in May 2014. This breakthrough book, a theory of what the universe is, reconciles science with religion. It shows you a way of looking at reality that changes the way you look at yourself. You see the highest use of your life. Your own life becomes more exciting and inspiring. You have new "under-standing" of individuals and your love flows easily.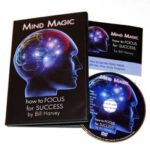 A companion DVD was created in 2010 with videos and a study guide to optimize the study and implementation of the MIND MAGIC tools.
The plan of the Institute, beginning with MIND MAGIC, is to distribute material designed to catalyze the upper mind, through all media and educational channels worldwide. Implementation within organizations will be linked with pre-post measurements of team performance. Basic research will be conducted to determine the psychophysiological substrate of the condition we call the upper mind.

A Personal Perspective by Bill Harvey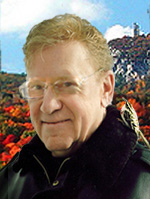 A child during an early career as a show business performer discovered that he sometimes experienced perfect performances which occurred while he observed himself without making any effort to perform – as if from outside, behind, or above himself. Let us call this "Condition 1".
At other times performance required effort and was not perfect and at these times he appeared to be inside himself in the familiar daily state of "normal waking consciousness". Let us call this "Condition 2". He assumed Condition 2 to be the normal one and sought to find out more about Condition 1 which he observed to be "supernormal" in terms of performance effectiveness.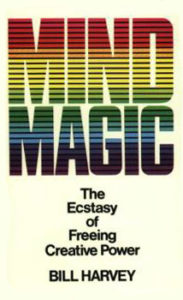 Over a period of years Bill Harvey discovered ways of triggering Condition 1 (see above), the state of automaticity and effectiveness. These trigger methods often involved self-reminders encapsulated in a few words which he called "trigger words". Later in life he collected a subset of these trigger words into a book which he called Mind Magic, The Ecstasy of Freeing Creative Power. His use of the word "magic" was not meant suggest anything not susceptible to science since he has always believed that everything real is susceptible to science. His use of the word "magic" was intended to convey that the book was breaking into ground unfamiliar to most people and that the experience of Condition 1 would be as close to a magical experience for most people as scientifically possible.
About 35,000 copies of this book have been sold to date. The Human Effectiveness Institute has always sold these on the basis of a lifetime moneyback guarantee. 11 copies were returned under that guarantee. Over 3000 readers chose to write in unsolicited testimonials that the book had positive life-changing effects on them. Today the latest testimonials are sent in to and posted on the Amazon site where readers continue to give the book five-star ratings. And now MIND MAGIC has been released in its sixth edition with some additional material under the title of MIND MAGIC: Doorways into Higher Consciousness.
The purpose of The Human Effectiveness Institute's work is to continue to study Condition 1, to discover its scientific underpinnings, to refine trigger methods and to make them accessible to as many people as possible.