Created September 17, 2021

You'll know you're in the Flow state when your mind sees the futility of saying anything to itself, because words can never tell the whole truth about what you are already sensing and need no words to sense.
When it first happened to me, I was merged with the audience, with my father, the band, the stage, everything was me dancing together and doing itself perfectly as I watched and enjoyed the experience mightily.
Interestingly, the moment was captured by a photographer: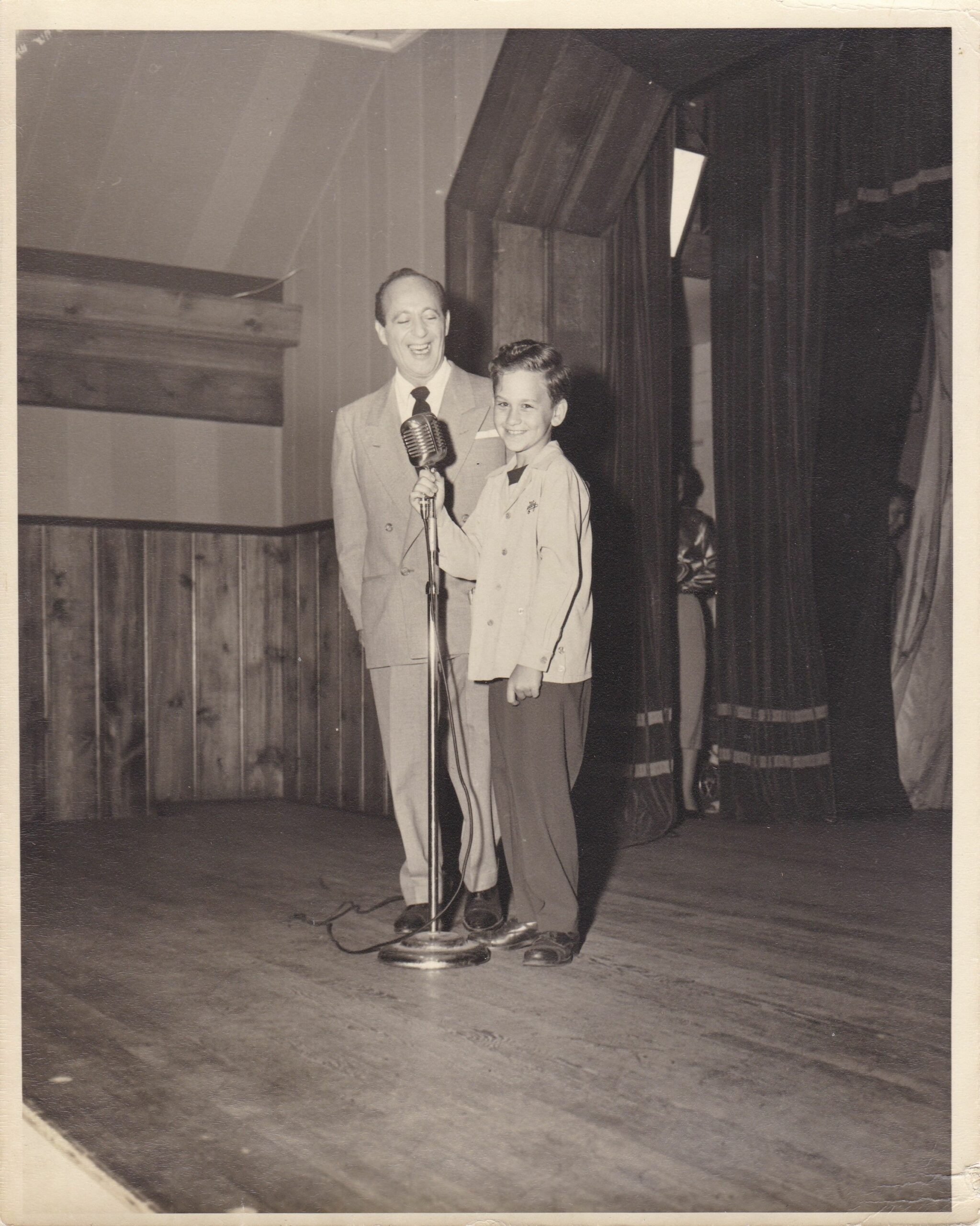 My mother Sandy was watching from the wings. You can see her to my right where the curtain to backstage is slightly open.
Flow state as first named and described by Dr. Mihaly Csikszentmihalyi has of course been around in the human race since as far back as we go, and we see that animals get into it too, such as when we see squirrels playing 50 feet above the ground jumping confidently from branch to branch. The Flow state is one of the things we love to watch during the Olympics or any TV live sports. Incredibly perfect performances account for a goodly percentage of the most watched and shared Youtube videos.
As Mihaly (he had been an advisor to The Human Effectiveness Institute) spelled out, the Flow state happens when one is not emotionally attached to (dependent on) winning, but is simply playing for fun.
Echoing the Buddha's exhortation to attain nonattachment. This is not just coincidence. Buddha was one of the many saints in history who knew of the higher states of consciousness as real phenomena, and compassionately spent their lives trying to get as many people as possible to take the idea seriously.
We have never needed more for people to go inside and take themselves over. And it has never been less likely that we can accomplish this at the mass level at which sanity is needed quickly.
I link sanity and the higher states of consciousness – Observer state and Flow state – on purpose. All around us today we see high degrees of irrational behavior, in the U.S. higher than ever seen before in my lifetime at least. Psychology as a nascent science has never drawn a bright line where sanity ends and insanity begins. Neurotic behavior is not as extreme as psychotic behavior, and people in public office can apparently stay in office no matter how far from rationality (enlightened self-interest) they stray, as long as we can write them off as neurotics and not psychotics. We forgive neuroticism because we acknowledge to ourselves in moments of clarity that we ourselves and possibly everyone has some degree of neuroticism.
Attachment is certainly one of the driving factors in neuroticism. People become irrationally attached to something while they are young and impressionable and then it becomes so much a part of who they think they are that it can become invisible to themselves, even as it causes obsessive compulsive, paranoic, manic depressive, and even schizophrenic behavior. Belonging is a deep motivation, so is power, so is social acceptance, and any of these and more are among the mechanisms which take away our Flow state and our Observer state and turn us into Devoted Followers.
Attachment is the main blocker of our feeling the innate joy of being alive. Theoretically, like those nearly-flying squirrels, just the fun of all the things we can choose to do each moment by being alive should make us incredibly grateful and happy. It's all a creative game. It's the most exciting movie of all: LIFE. Yet count the long faces as one walks down any street.
A part of us inside is purposely blocking joy. It is attachment. It is saying: "No I won't let you feel joy because I want X and I may not get it!" Please let this 87-second video experience flow into your open mind:
Once you have found the hidden switch of your Will, you will have the determination to not waste time working against your own best interests, such as by wallowing in shame, guilt, fear, anger, blame, hate, or any other alarm system. Those systems, like an alarm clock, have a very valid function, and they call our attention to something that we need to deal with intelligently, and like an alarm clock, it is not intelligent to proceed without turning them off first. We must use these negative feelings exactly like an alarm clock. They have called your attention to a real-world challenge you have. Okay, how are you going to solve it? What is it in your realistic power that you can actually DO to win in the situation? It isn't by wallowing in the alarm clock.
Be on your own side. Get to the solution stage and don't get stuck in the problem recognition stage. This is enlightened self-interest. This is sanity. This is rationality.
Help your children learn this trick. Show them the video. Get themselves to take their own side using their intelligence and their courage to face the world's challenges as creative challenges. Get them to see the potential fun in looking at everything that bugs them, that new way. Constructively. Not pausing to take potshots at others, wallowing in blame or other excuses. Teach them to take responsibility not only for themselves but for the people around them. Make it better, tell them. Like the lyric in the Beatles' song "Hey Jude" – "Take a sad song and make it better."
Tell them about the Flow state. They will like that part. They will make that part of their bucket list. Remind them not to get attached to getting into the Flow state, because that will block it. Just take each moment as an opportunity to make things better and to enjoy the fun of every challenge. Then Flow will come on its own.
My best to all, Bill