Updated May 1st, 2020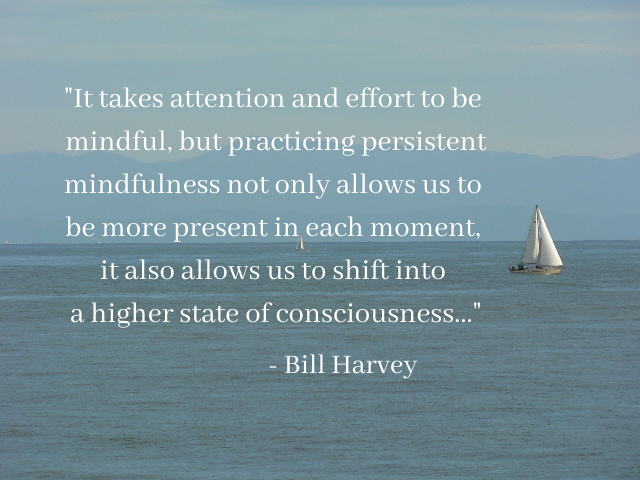 image by Erin Buonocore
In last week's post we talked about how distracted we have become, and in conclusion we mentioned Mindfulness as one way we can counter the distractions of modern life. Therefore in this post we shall investigate the nature of Mindfulness.
Mindfulness is a form of attention control.
The need to be master of one's own attention has gotten progressively greater over the centuries as a result of information overload and its distractive effects. We have given this condition the name Acceleritis™, the vast increase in the amount of information needing to be processed by our brains each day. ADD, ADHD, and a fairly obvious reduction in the general population's ability to stay focused on one problem long enough to solve it, have been the result.
Watch a video about the cure for Acceleritis.
The need for Mindfulness has never been greater.
The Vedas, some of the earliest writings on the planet, recommend three yogic mental/ emotional methods to achieve the conscious and willful control of our attention.
Concentration is the focus of the mind on a single object.
Contemplation is the focus of the mind on a single subject.
Meditation is the contemplation of the Self.
What then is Mindfulness?
We define Mindfulness as the optimal allocation of attention for maximum effectiveness. When one is mindful, attention optimally allocates both inwardly and outwardly at the same time. This helps us understand our own motivations in the moment, to consider not only our needs but the needs and probable responses of others, and to greatly improve what fighter pilots call situational awareness. This is in sharp distinction from our typical behavior, which is to allocate virtually all attention outwardly whenever the eyes are open.
It takes attention and effort to be mindful, but practicing persistent Mindfulness not only allows us to be more present in each moment, it also allows us to shift into a higher state of consciousness to reach the Observer state more often and launch into the Zone or Flow state, the highest known state of consciousness in which right actions seem to do themselves effortlessly.
Mindfulness and Positive Thinking with a solution orientation — overleaping the focus on the problem once it is defined and going right to the focus on the solution — are the cornerstones of what I practice to achieve superior decisions, highest effectiveness, and creative innovation in all aspects of my life. Try this approach for yourself to see if it works for you.
Best to all,
Bill
Read the latest post at my media blog, "In Terms of ROI" at MediaVillage.com