Volume 4, Issue 15
This last Monday I was presented with the Erwin Ephron Demystification Award by the Advertising Research Foundation. Naturally, I was tipped off in advance, and had organized my thoughts about what I would say.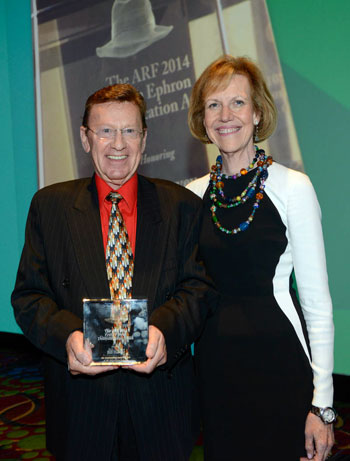 Bill Harvey, recipient of the first Erwin Ephron Demystification
Award, with Gayle Fuguitt, CEO and President of the ARF.
(On the subject of acceptance speeches my mind always goes back to Sally Fields' Oscar acceptance speech in which she emoted "You… like me!")
For those of you who did not know Erwin, who passed on some months ago, he was one of the thought leaders of the advertising industry, known best for his ability to express himself so that not only did everyone understand him, his arguments were inarguable. He was also a great friend and mentor of mine. I've been extremely fortunate to have had so many great mentors. The Universe sure has treated me nice since I acknowledged its sentience.
For those of you who weren't there on Monday, here's approximately what I said, with some unintentional omissions and a couple of new thoughts as I write this:
Thanks ARF, everyone involved, for this award. Thanks Erwin for teaching me how to demystify a little bit. I'm working at it. No one can do it like you could, buddy.
Interestingly, the last conversation I had with Erwin sort of presaged that there would be an Erwin Ephron Demystification Award. I was in a hotel room in Manhattan and my cell rang. It was him. He said that he and I still had some unfinished work to do together with the ARF. He said that the keyword is simplicity, that we need to get back to the basics of brand building (sales and long-term brand equity), and resist the attractiveness of all the new things that distract us from getting the brand to be more successful by making wise creative and media decisions. He expressed concern about how much time we spend reading or talking about new technologies. He didn't object to including new stuff in the conversation, he just didn't want us to go goggle-eyed and indecisive and to spend all our time that way. He knew how much hard work it takes to make brands succeed better.
I've been applying his advice. I have people editing my ravings to help me demystify more (hopefully). There are large blocks of time in which I refuse to even glance at email and instead focus on the biggest priorities. I studied Erwin's book, Media Planning – From Recency to Engagement, again for more clues. Of course, I love his first chapter, since he wrote it about me. How can you not love a friend who does that? But it was in his second chapter, on page 8, where I found that any brand can gain 5% to 10% more cost effectiveness by geotargeting. It's still true. Five to ten percent is a lot considering that typical mature brand domestic growth is almost zero percent. Back to basics. With partners, I'm developing hyperlocal automation partly inspired by Erwin. Actually we are not claiming 5-10% but only a minimum of 2%. Not to revise the master, but he wrote that a while ago when mature brands were still growing domestically. Today the game is a lot harder. What is really needed goes beyond what media and creative people can do. What is really needed is new product development focused on healthy sustainable environmentally-friendly and animal-friendly products more than on advertising to fuel a new growth cycle.
Let me leave you with a tip as to how to be next to win the Erwin Ephron Demystification Award. Write something that de-confuses us, something simple yet profound. Take the mystery out of something we are grappling with. Or at least, help us organize our confusion.
Thanks again to all!
The ARF is a great organization that nurtures the actual and potential brilliant scientists in the industry. Marketing science is every much a science as behavioral economics, and the two are interlocking fields of psychology.
Wishing you all great joy at your work!
Bill
PS — In my Myers blog (link below takes you to the most recent post in that series) I will soon publish a supplement to this post focusing on the technical comments I made, which are of interest to marketers and possibly of less interest to most people.
Follow my regular blog contribution at Jack Myers Media Network: In Terms of ROI. It is in the free section of the website at Bill Harvey at MediaBizBloggers.com.
My new book, You Are The Universe: Imagine That is now available.