Excerpt from my new science fiction novel, The First Son.
We continue our story where we left off last week, with the second part of a chapter excerpted from my new science fiction/alternative history novel, The First Son.
As we mentioned last week, many of you will feel a familiarity with the story revealed in this chapter, yet here and throughout the novel, ancient legends and mysteries are seen in a different light, connecting seemingly disconnected fragments of history over a climactic 3100-year period, and introducing the invisible side of things as they might have happened.
We do hope you enjoyed last week's excerpt and will enjoy this next excerpt as well. You can read the first few chapters right on Amazon, get them as free sample with the Kindle app or buy the book here.  If you love it, we hope you'll want to gift friends and family with the Kindle version, just released on Amazon in time for Christmas!
Now, let's continue our story with our five characters witnessing and participating in an epochal unfolding event as Agents of Cosmic Intelligence in Bethlehem…
However, I might choose to let you be born, Perse went on, and share equally with me in everything from this day.
Share insanity with you, brother? Yeshua responded kindly.
The whole multiverse—yes granted, it's all insane, even me, I get it—but you're even crazier than the rest of us if you don't admit it, Perse argued in his best style. Yeshua laughed appreciatively as if this was just a comedy act. However, it did hurt him to know that even The One Self was hurt that Lucifer was going through this hell. This wasn't fun anymore.
Get thee behind me, Yeshua said. Perse stared at him then laughed ruefully.
What, you can't say "kiss my ass" like the rest of us? Perse asked and haughtily disappeared.
Mary's water broke. Layla cleansed her. Joseph sat on the bed and held Mary's hand. The chickens had settled down in a semicircle watching the humans and seemed to be in a meditative state. A white dove fluttered onto the windowsill above and watched, soon joined by its mate. Within minutes the windowsill was filled with birds of many kinds. The baby lamb and its mother cuddled up at the foot of the bed with a cat, dog and immaculate piglet. There were two horses watching, spouses. The cow also watched.
It seemed as if the gathering twilight outside had rebounded and it were now somehow sunrise, for as the moments quietly passed, listening to Mary's breathing, it was getting lighter outside. Joseph went outside to see what was going on. Nobody was around. There was a strange light. He looked straight up and saw directly above the brightest star he had ever seen.
Atlantis! Maitreya pathed first, and they all got it.
Wouldn't miss this for the world, pathed the great ship above, Atlantis by name.
But you were dead, Nastassia said.
Yes, and resurrected, badder than ever, Atlantis said. Great to see you folks again. The Agents and the ship excitedly greeted each other for some time, swapping war stories. To Joseph, who ran inside to report the star, it was a silent night thereafter.
He went into meditation and without moving his eyes he was able to see everything whenever he wanted to focus on the external. He started with his eyes open and drank in the great beauty of the scene. He was already in an exalted state. He had everything he had ever wanted in life. His service to Hillel and now to God was in process of the highest fulfillment. His beautiful and brilliant wife was peaceful, in a state of grace. He himself could see her halo! He had heard of such things but never before had he beheld it with his own eyes. Still his eyeballs did not move to study the phenomenon, for it was not that important somehow.
And these birds and animals, and this young girl Mary, if that was her real name or maybe she meant she was a nun too, all of it was amusing but not important to Joseph. How beautiful they all were, and so caring, and tender. He closed his eyes.
Mary was in a similar state. She need not keep her eyes open to see what was around her, in complete detail as if with her eyes. This had never happened to her before. She felt her first contraction, and Layla and Joseph both sensed it and sprang to hold her, but it had not been so painful.
Many miles away, Elizabeth was in the same phase, and Mary and Elizabeth sensed each other and knew this. They were both aware when Yeshua sent his love and congratulations to the Baptist, and both babies kicked, dancing with joy at the same time.
Yeshua sent greetings to His Father and that's when Layla first heard the singing. At first it was hard to hear, and indistinct, but as she contemplated it and let it in, it gradually became part of her, as if she were singing, and then as reality merged with other realities superimposed, she found she was singing and somehow knew the words and the melody. Her last verbal thought for a while was that The One Self was now fully in control of her. The difference she had been had vanished.
Yeshua then sent greeting to Hillel and to the other Agents by name, and to Atlantis, and to each Agent on Earth, and he kept radiating these messages to beings both near and far across all of existence. The average heartbeat on Earth stepped up a notch. The Schumann Rhythm became a soliton standing wave in the Earth's magnetic field. All beings on Earth became more sentient and breathed more deeply of whatever they were breathing. All perceptions for a time were drenched with this suchness to all perceivers.
The contractions were coming more frequently and now Layla was in position at the end of the bed amidst the dog, cat, pig, sheep, and lamb. All necessary implements were at her fingertips. And now the baby was coming!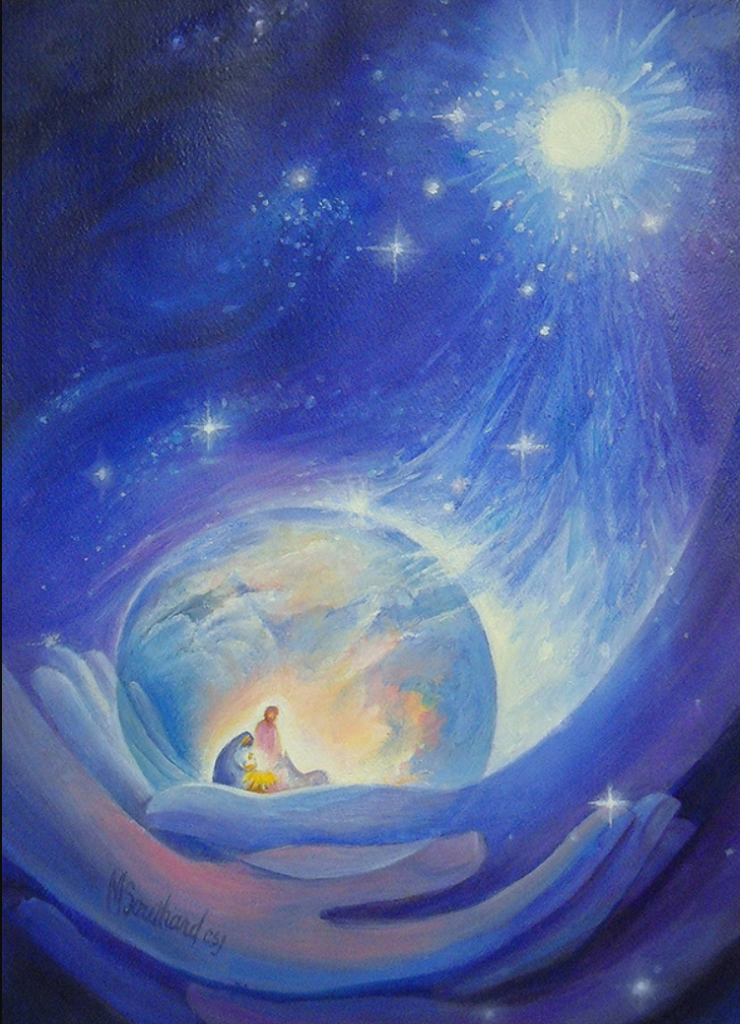 Layla felt The One moving within her as her with every movement heartburstingly perfect, the singing ringing from the rafters, her fingers gently on the tiny head of The First Son, in the most important of His births in multiverse history. Tears ran freely down her face in the exultant joy of being thus privileged.
It became clear that they were all within each other's minds, and that each was fully aware of it, the animals, the Agents, the humans, and The One Self. One could look in any direction and see forever, see all of the creatures ever projected by The One Self, in every action that ever occurred was occurring or will occur. Nothing was hidden from sight, a memory that would be especially hard for the animals to bring back into consciousness, although none would ever forget it. Mary and Joseph saw the full Truth, more than even they had ever imagined—the concept of them each being The One Self having never occurred to them. Now the God they adored and obeyed was their selves.
And now they lifted up the baby and slapped its little tushy, but that was for form, as the baby had joined lustily in the singing, becoming the lead soprano, even before the symbolic slap.
Excerpted from THE FIRST SON, Chapter 24, pp 123–126, ©2018, Bill Harvey
Illustration: Cosmic Birth/Sacred Moment in Time, by Mary Southard / marysouthardart.org/
THE FIRST SON book and Kindle edition are now available on Amazon.
At your favorite bookstore too.
Peace, Joy & Love to All. Merry Christmas! 
With appreciation and gratitude,
Bill
Follow my regular media blog contribution, In Terms of ROI at MediaVillage.com. Here is the link to my latest post.